Messerschmitt Bf 110 / Me 210 / Me 410 - An Illustrated History
For the first time, this richly illustrated book offers a comprehensive, detailed examination of the legendary Messerschmitt Bf 110, Me 210, and Me 410 series. By 1935 the Bf 109 had made Messerschmitt the leading manufacturer of fighter aircraft in Germany. The twin-engined Bf 110 followed on its heels in 1936, a type the Luftwaffe took on in large numbers as a long-range fighter, heavy-fighter, fighter-bomber, night-fighter and reconnaissance platform.
As its successor, Messerschmitt developed the better performing Me 210, which flew for the first time in 1939. But this airframe soon began manifesting serious design flaws, and accidents with the Me 210 quickly started piling up due to the type's questionable flight handling characteristics. The Luftwaffe refused to accept any more aircraft as a result, and at a stroke the type's overzealous full scale production ground to a halt.
More powerful engines and a number of design changes saw this aircraft produced from 1943 to 1944 under the designation of Me 410, and as such the type gave an excellent accounting of itself in service with the Luftwaffe.
| | |
| --- | --- |
| Autor: | Heinz Mankau, Peter Petrick |
| Szczegóły: | 360 strony, 28.5 x 22.5 x 3.1 cm, twarda oprawa |
| Ilustracje: | bogato ilustrowana |
| Wydawca: | Schiffer Publishing Ltd (USA, 2004) |
| EAN: | 9780764317842 |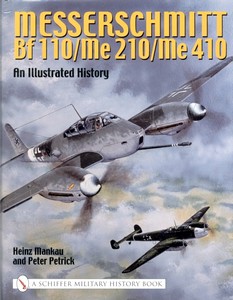 Messerschmitt Bf 110 / Me 210 / Me 410 - An Illustrated History
Język: angielski
Kup na Amazon PL
Kup na Amazon DE
Kup na Amazon.com