Martin B-26 Marauder - The Ultimate Look: from Drawing Board to Widow Maker Vindicated
In his fifth book in The Ultimate Look series, Dr. Wolf again brings the same degree of meticulous research to describe this unappreciated and misunderstood B-26 medium bomber. This massive, comprehensive volume is the first to give the reader a definitive description of this neglected bomber, its development, testing, and manufacture.
The role of the enigmatic aviation icon Glenn L. Martin is described in the development of the American aviation industry and the Marauder. The author made extensive use of the massive document and photo collections of the Marauder Archives at Akron and Tucson, and the Air Force collection at the NMUSAF.
Martin Company design and production information and flight and test evaluations, along with original Company Flight, Parts, and Maintenance Manuals, and rare archival microfilm of original material were also used.
The author was given unprecedented access to the family records of B-26 designer Peyton Magruder. The text is complemented by archival photos and drawings, and new color photos of the Marauders at the NMUSAF, Fantasy of Flight, and MAPS Museum.
| | |
| --- | --- |
| Autor: | William Wolf |
| Szczegóły: | 512 strony, 28 x 21.5 cm, twarda oprawa |
| Ilustracje: | 900 zdjęć i rysunków, 20 rysunków profilowych kolorowe |
| Wydawca: | Schiffer Publishing Ltd (USA, 2014) |
| EAN: | 9780764347412 |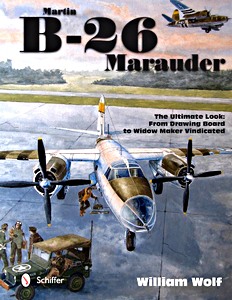 Martin B-26 Marauder - The Ultimate Look: from Drawing Board to Widow Maker Vindicated
Język: angielski
Kup na Amazon PL
Kup na Amazon DE
Kup na Amazon.com