75 years of the Lockheed Martin Skunk Works
The Lockheed Martin Skunk Works was founded in the summer of 1943 to develop a jet-powered high-altitude interceptor for the USAAF, and ever since it has been at the forefront of technological development in the world of aviation.
From the XP-80 to the U-2, SR-71, F-117, F-22 and now the F-35, the Skunk Works team has designed aircraft that are the pinnacle of innovation and performance.
"75 years of the Lockheed Martin Skunk Works" takes us through the history of this legendary facility from its foundation at the height of World War II under the talented engineer, Clarence "Kelly" Johnson, through to the present day.
Illustrated with over a thousand photographs and drawings, it details the 46 unclassified programmes developed by the Skunk Works, following them through prototype build-up, first flight and, if they reached the frontline, operational service.
| | |
| --- | --- |
| Autor: | James C. Goodall |
| Szczegóły: | 384 strony, 24.5 x 30.5 x 3 cm, twarda oprawa |
| Ilustracje: | 1000+ zdjęcia czarno-białe i kolorowe, rysunki |
| Wydawca: | Bloomsbury Publishing PLC (GB, 2021) |
| EAN: | 9781472846471 |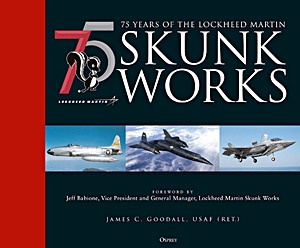 75 years of the Lockheed Martin Skunk Works
Język: angielski
Kup na Amazon PL
Kup na Amazon DE
Kup na Amazon.com