Hughes HK-1 (H-4) Flying Boat Manual
The legendary H-4 Hercules was designed and built by the Hughes Aircraft Company. Intended to defeat the German U-boat threat, the plane was intended to be a super transport that could ferry 750 troops from the USA to Europe, and serve as an aerial ambulance on the return flight. Owing to wartime restrictions on the use of aluminum, the prototype Hercules was built using laminated birch wood. Although company CEO Howard Hughes hated it, the name "Spruce Goose" was coined for the plane and it stuck.
The Hercules would be the largest flying boat ever built, and one of history's largest and most expensive planes. Many questioned the practicality of the aircraft, and after the war ended and the project was roundly criticized as a boondoggle. To silence the critics, Howard Hughes decided to prove the plane could fly. On November 2, 1947 he and a crew of 21 conducted a series of taxi tests with the plane. On the last test, the plane became airborne for a brief time and flew just under two miles at an altitude of roughly 70 feet. It would never fly again, but Hughes had silenced his critics.
This Hughes Flying Boat Manual was originally prepared for the U.S. Government's War Department, and made available through the Freedom of Information Act. It provides an overview of this massive plane's design and operation for the pilot and flight crew, and puts you right in the cockpit of one of history's great planes.
Please note, because this document originated from an archival copy, legibility can vary.
| | |
| --- | --- |
| Autor: | U.S. War Department |
| Szczegóły: | 170 strony, 25 x 20.5 x 1 cm, miękka oprawa |
| Ilustracje: | ilustracje czarno-białe |
| Wydawca: | CKE Publications (USA, 2009) |
| EAN: | 9781935327783 |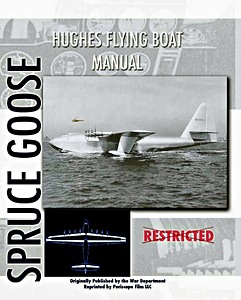 Hughes HK-1 (H-4) Flying Boat Manual
Język: angielski
Kup na Amazon DE
Kup na Amazon.com