Heinkel He111 - An Illustrated History: Design, Development, Variants, Operations, Equipment
The He 111 was a mainstay of the Luftwaffe bomber force. Rugged and flexible, it first saw operational deployment in the Spanish Civil War with the Legion Condor in the late 1930s, and subsequently in World War 2. It was used on every single battle front, from the early Blitzkrieg campaigns of 1939/40 through to the Mediterranean and the vast theatre that was Russia.
This book forms a heavyweight study of its development and operational history, exploring the many variants of this famous and longserving Luftwaffe bomber aircraft. The text is illustrated by several hundred rare photographs, manufacturer's handbook data, scale line drawings and specially commissioned colour artwork. Covered are the variants and wide array of armament and equipment with whichthis aircraft was fitted as well as their various markings and camouflage schemes.
| | |
| --- | --- |
| Autor: | Robert Forsyth |
| Szczegóły: | 336 strony, 30.5 x 22.5 cm, twarda oprawa |
| Ilustracje: | bogato ilustrowane, zdjęcia czarno-białe i kolorowe |
| Wydawca: | Ian Allan Publishing (GB, 2014) |
| EAN: | 9781906537470 |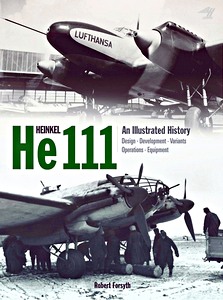 Heinkel He111 - An Illustrated History: Design, Development, Variants, Operations, Equipment
Język: angielski
Kup na Amazon PL
Kup na Amazon DE
Kup na Amazon.com