Hawker Siddeley Harrier : The World's First Jump Jet
The revolutionary Harrier took to the skies in December 1967, going on to become the star of the Royal Navy and Air Force during the Falkland Islands War in 1982.
Its US derivative, the McDonnell Douglas AV-8B Harrier II, proved equally successful with the Marine Corps in Operations Desert Storm, Iraqi Freedom and Enduring Freedom.
Featuring a wealth of rare and previously unpublished photographs and diagrams, this photographic history explores the background that led to the development of this remarkable aircraft.
Mark A. Chambers charts the history and output of Hawker Aircraft Ltd from Sopwith onwards, through the Harrier's development, production, flight testing and operational and combat history, and also considers its future replacement, the Lockheed Martin F-35 Joint Strike Fighter.
An effective strike fighter for several nations for almost half a century, Harrier's longevity is testament to its practical design and viability - a truly unique combat aircraft.
| | |
| --- | --- |
| Autor: | Mark A. Chambers |
| Szczegóły: | 156 strony, 23.5 x 26 x 1.9 cm, twarda oprawa |
| Ilustracje: | 116 zdjęć czarno-białych i 114 kolorowych |
| Wydawca: | The History Press Ltd (GB, 2017) |
| EAN: | 9780750967433 |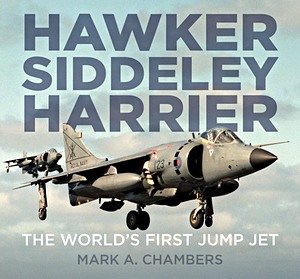 Hawker Siddeley Harrier : The World's First Jump Jet
Język: angielski
Kup na Amazon PL
Kup na Amazon DE
Kup na Amazon.com