A-6 Intruder
Grumman's A-6 Intruder served as the Navy's pre-eminent all-weather, medium attack aircraft from 1963 to 1997. Nearly 700 were built. The Intruder was aptly named, as the A-6 quickly proved it could perform its mission - flying low and alone in any weather - better than any aircraft of its era. Known for its versatility, the subsonic Intruder also gained a workhorse reputation due to its range, ability to carry vast quantities of ordnance and fuel, and its day and night striking capability.
The A-6 served with distinction in Vietnam, where it dropped more ordnance than the B-52. Flying low-level raids, the aircraft was susceptible to ground fire. 84 Intruders were lost, but the toughness of the planes and their pilots made them legendary, and inspired the book and film The Flight of the Intruder.
In the years after Vietnam, the aircraft built on its reputation. It served in the skies over Lebanon in support of United Nations actions and flew punitive raids on Libya in 1986, neatly evading over 100 guided missiles in the process.
During Operation Desert Storm, the plane logged more than 4,700 combat sorties. The A-6 was retired by the Marine Corps. in 1993, and by the U.S. Navy in 1997. A variant, the EA-6B electronic warfare platform continues to fly.
This pilot's manual for the A-6 was originally printed by Grumman and the U.S. Navy. Originally classified "restricted", it has now been declassified and is here reprinted in book form.
| | |
| --- | --- |
| Autor: | United States Navy |
| Szczegóły: | 408 strony, 25 x 21 x 2.3 cm, miękka oprawa |
| Ilustracje: | bogato ilustrowane, zdjęcia i rysunki |
| Wydawca: | Periscope Film (USA, 2009) |
| Seria: | Pilot's Flight Operation Instructions |
| EAN: | 9781935327769 |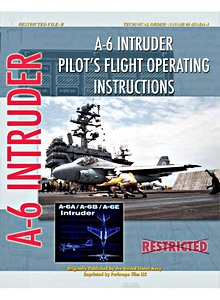 A-6 Intruder
Język: angielski
Kup na Amazon PL
Kup na Amazon DE
Kup na Amazon.com