Gloster Aircraft Company
The Gloster Aircraft Company had its foundation in 1917 and in 1934 the company was taken over by Hawker Aircraft, though it continued to produce aircraft under its own name. In that same year the company produced the famous Gladiator biplane.
Having no modern designs of its own in production, Gloster undertook manufacture for the parent company Hawker. During the Second World War it built more than 6,000 Hurricanes and Typhoons.
The Gloster Meteor was the first operational Allied jet fighter aircraft of the Second World War, commencing operations in mid-1944, only some weeks later than the world's first operational jet, the German Messerschmitt Me 262. In 1945 a Meteor gained a World Airspeed Record of 606 mph.
Meteors remained in service with several air forces and saw action in the Korean War.
In 1952, the two seat, delta winged Gloster Javelin was developed as an all-weather fighter that could fly above 50,000 feet.
In 1961, the company was merged with Sir W.G. Armstrong Whitworth Aircraft Limited to form Whitworth Gloster Aircraft Limited. Following re-organisation, the firm became part of the Avro Whitworth Division of Hawker Siddeley Aviation in 1963, and the name Gloster disappeared.
This well-illustrated book describes the story of Gloster and its aircraft.
| | |
| --- | --- |
| Autor: | Derek James |
| Szczegóły: | 192 strony, 23.5 x 15.5 x 1.2 cm, miękka oprawa |
| Ilustracje: | zdjęć czarno-białych i rysunki profilowe |
| Wydawca: | Fonthill Media (GB, 2013) |
| EAN: | 9781781552599 |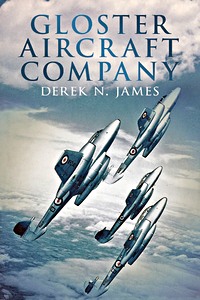 Gloster Aircraft Company
Język: angielski
Kup na Amazon PL
Kup na Amazon DE
Kup na Amazon.com