Fokker Aircraft of WWI (Volume 1): Spinne - M.10 & Watercraft
The first volume in a 6-volume set that details all Fokker aircraft of the war. Volume 1 tells the story of the first Fokker aircraft through the M.10, including the following models:
- Spinne
- A.I, A.II, A.III
- B.I and B.II
- C. IW
- M.1, M.2, M.3, M.4, M.5, M.6, M.7, M.8, M.9, M.10
- W.1, W.2, W.3, W.4.
This story is told in text, specifications, 316 rare photos, 9 color profiles, 13 1/72 scale drawings, and 4 1/48 scale drawings of the aircraft.
| | |
| --- | --- |
| Autor: | Jack Herris |
| Szczegóły: | 206 strony, 28 x 21.5 x 1.2 cm, miękka oprawa |
| Ilustracje: | zdjęć czarno-białych, 9 rysunków profilowych kolorowe |
| Wydawca: | Aeronaut Books (USA, 2020) |
| EAN: | 9781953201058 |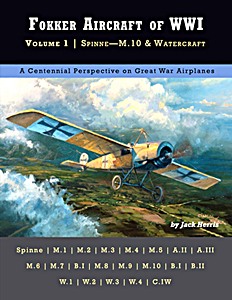 Fokker Aircraft of WWI (Volume 1): Spinne - M.10 & Watercraft
Język: angielski
Kup na Amazon PL
Kup na Amazon DE
Kup na Amazon.com