Dornier Do17 : The 'Flying Pencil' in the Luftwaffe Service
Designed both as a military and civil aircraft, the Dornier Do 17 'Flying Pencil', so called because of its slender fuselage, was one of three twin-engined medium bombers in service with the Luftwaffe at the start of the Second World War. Its service with the Legion Condor during the Spanish Civil War, mainly in the reconnaissance role, so impressed the Luftwaffe that high priority was allocated to the aircraft as both a bomber and reconnaissance aircraft.
The Do 17 was loved by its crews. It served over Poland, France and the Low Countries, Britain, the Balkans, Greece and the Soviet Union, often without escort and against increasing and improved fighter opposition. Despite a comparatively light bomb-load and limited range, the ultimate version, Do 17Z, possessed good manoeuvrability and during the Luftwaffe's campaign against England in 1940, it was preferred for low-level attacks on British airfields and installations, though its lack of protection made it vulnerable.
Though production ceased in October 1940, the sleek Do 17 could be found on the strength of Luftwaffe units to the end of the war operating as a glider tug, night reconnaissance platform, research aircraft and trainer.
In this book Luftwaffe historian, Chris Goss, recounts the operational history of the Do 17, perhaps the least understood and often forgotten of the Luftwaffe's medium bombers.
| | |
| --- | --- |
| Autor: | Chris Goss |
| Szczegóły: | 304 strony, 31 x 23.5 x 2.7 cm, twarda oprawa |
| Ilustracje: | 700+ zdjęcia i rysunki |
| Wydawca: | Crecy Publishing (GB, 2020) |
| EAN: | 9781906537555 |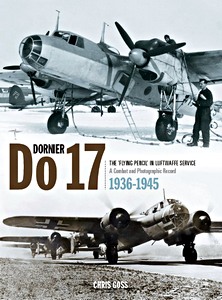 Dornier Do17 : The 'Flying Pencil' in the Luftwaffe Service
Język: angielski
Kup na Amazon PL
Kup na Amazon DE
Kup na Amazon.com