Convair
Becoming the fourth largest aircraft manufacturer in the United States when Consolidated merged with Vultee in 1943, Convair quickly built a reputation for designing and building some of the largest and most powerful aircraft in the world.
From the XA-41 ground-attack aircraft in 1944 through to the CV-880 and CV-990 airliners of the early 1960s, Convair pushed the boundaries with every project they undertook. Some were inevitably more successful than others but all would make their mark in aviation history.
The novelty of the turboprop-powered Tradewind flying-boat, the glamour of the F-102 Delta Dagger and F-106 Delta Dart and the brutish power and futuristic appearance of the B-58 Hustler are all trademark Convair machines.
Discover the history behind these incredible machines, and many others as well, in this profusely illustrated book by aviation writer Martyn Chorlton.
| | |
| --- | --- |
| Autor: | Martyn Chorlton |
| Szczegóły: | 96 strony, 23.5 x 16.5 x 1 cm, miękka oprawa |
| Ilustracje: | 140 czarno-białych i kolorowych zdjęć |
| Wydawca: | Amberley Publishing (GB, 2018) |
| EAN: | 9781445680873 |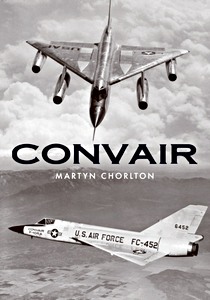 Convair
Język: angielski
Kup na Amazon PL
Kup na Amazon DE
Kup na Amazon.com