PBY Catalina : Consolidated's Flying Boat in WWII
NOWOŚĆ
The PBY Catalina, designed and produced by Consolidated Aircraft, whose production was supplemented by that of Boeing Canada, Canadian Vickers, and the Naval Aircraft Factory, was the most widely used flying boat of all time.
Developed in the 1930s, the famed patrol bomber was used around the world by the United States and its allies - the Soviets even produced hundreds of duplicates. The versatile aircraft sank U-boats, located the dreaded Bismarck, and rescued scores of downed airmen and crews of sunken ships.
This volume explores the development and use of the aircraft, as well as details of its construction. This volume is profusely illustrated with almost 300 photos, many of which are in vintage color, augmented by line drawings.
| | |
| --- | --- |
| Autor: | David Doyle |
| Szczegóły: | 144 strony, 24 x 24 x 2.5 cm, twarda oprawa |
| Ilustracje: | 300 czarno-białych i kolorowych zdjęć |
| Wydawca: | Schiffer Publishing Ltd (USA, 2023) |
| EAN: | 9780764366451 |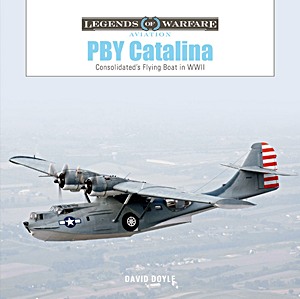 PBY Catalina : Consolidated's Flying Boat in WWII
Język: angielski
Kup na Amazon PL
Kup na Amazon DE
Kup na Amazon.com