Boulton Paul Aircraft Since 1915
The ancient Norwich firm of Boulton & Paul were brought into aircraft construction in 1915, and quickly became one of the great innovators. They pioneered metal construction and built the frame of the largest aircraft ever built in Britain, the R.101 airship.
The Overstrand, the last of their superlative medium bombers, was the first aircraft in the world to feature a power-operated gun turret, and after their move to Wolverhampton in 1936 and change of name to Boulton Paul Aircraft their gun turrets became a vital component of the war effort, not least in their own Defiant, which fought in the Battle of Britain and was the most successful night fighter in the dark nights of the Blitz.
Their post-war Balliol trainer was the World's first single-engine turboprop and their last production aircraft, because the technology of their gun turrets was translated into their world lead as manufacturers of power operated control units, and then fly-by-wire.
Becoming part of the Dowty Group and later GE Aviation, their advanced aerospace product line is now invested in the firm of Moog, still in Wolverhampton, still innovating.
| | |
| --- | --- |
| Autor: | Alec Brew |
| Szczegóły: | 448 strony, 25.5 x 18.5 x 2.7 cm, twarda oprawa |
| Ilustracje: | zdjęć czarno-białych |
| Wydawca: | Fonthill Media (GB, 2020) |
| EAN: | 9781781557518 |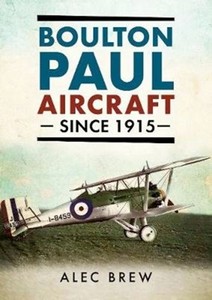 Boulton Paul Aircraft Since 1915
Język: angielski
Kup na Amazon PL
Kup na Amazon DE
Kup na Amazon.com