Boeing B-52 Stratofortress : Warrior Queen of the USAF
The Boeing B-52 Stratofortress began life at the Boeing Aircraft Corporation in 1946 and was the answer that General Curtis LeMay was looking for: a huge bomber. The B-52 entered service with the USAF in 1955 and is still in active service.
The B-52 had forged a successful career during the Cold War and was on constant alert against a Soviet nuclear threat. The B-52 was bloodied in the Vietnam War of which Operation Rolling Thunder became one of the monumental programmes in USAF history.
Also, the B-52 saw action in the Middle East during Operation Desert Storm, Operation Enduring Freedom and Afghanistan.
During her operational career, the B-52 has been refined and revised with a number of improvements to her huge airframe and cockpit. Of a total of 744 that were built, eighty-five of the 'H' variant remain in service.
Her armament capacity is immense and after sixty years of service and many battle scars later, she remains as the Boeing B-52: Warrior Queen of the USAF.
| | |
| --- | --- |
| Autor: | Jeannette Remak |
| Szczegóły: | 224 strony, 25 x 17 cm, twarda oprawa |
| Ilustracje: | 47 zdjęć czarno-białych i 32 kolorowych |
| Wydawca: | Fonthill Media (GB, 2015) |
| EAN: | 9781781554678 |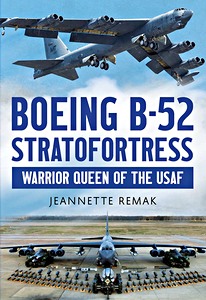 Boeing B-52 Stratofortress : Warrior Queen of the USAF
Język: angielski
Kup na Amazon PL
Kup na Amazon DE
Kup na Amazon.com