BAC One-Eleven
NOWOŚĆ
At the time of the One-Eleven's first flight, BAC seemed to have stolen a march on its American rivals. It was comfortably ahead of the similarly configured DC-9, and the Boeing 737 was barely a gleam in Boeing's eye at the time.
So why was it that Douglas went on to sell over 1,000 DC-9s (to say nothing of the developed MD-80 and Boeing 717) while BAC shifted only 244 One-Elevens? The answer to that question is just one part of the fascinating tale of the One-Eleven.
Also told in these pages is the full story of its concept and design against the troubled background of the industry's consolidation and of its entry into service. So sturdy was the One-Eleven's construction that its service life continued into the 21st century. At least two examples remain airworthy and leading active lives.
The One-Eleven was undoubtedly a great British achievement, yet anybody studying the aircraft's history is left with the feeling that it represents an opportunity lost; this book explores why.
| | |
| --- | --- |
| Szczegóły: | 96 strony, 24.5 x 17 cm, miękka oprawa |
| Ilustracje: | bogato ilustrowana |
| Wydawca: | Key Publishing Ltd (GB, 2023) |
| EAN: | 9781802823677 |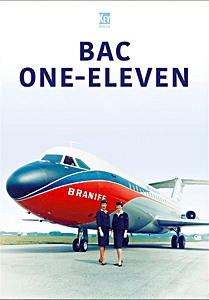 BAC One-Eleven
Język: angielski
Kup na Amazon PL
Kup na Amazon DE
Kup na Amazon.com