A Century of British Naval Aviation 1909-2009
The history of the first century of British Naval aviation, with personal accounts adding colour to the achievements both in technology, such as angled flight decks, mirror deck landing systems, helicopter assault and vertical take-off, and in operations, including the sinking of the Konigsberg and the daring attack on the Italian fleet at Taranto, convoy protection, operations with the United States Navy in the Pacific, then, post-war, Suez, and later the recovery of the Falklands from Argentine invasion.
The Royal Navy was in the forefront of aviation from a very early stage. As the author reveals officers such as the legendary Admiral of the Fleet Lord Fisher quickly recognised the strategic and tactical importance of air power. Winston Churchill, as First Lord of the Admiralty, volunteered the Navy for the air defence of the UK in WW1 but with the formation of the RAF in 1918 the Navy had a fierce fight to retain its own air arms and this is a struggle that has continued up to the present day. Not only are there many thrilling accounts of operations but this fascinating book also includes a chronology of major events.
| | |
| --- | --- |
| Autor: | David Wragg |
| Szczegóły: | 288 strony, 24 x 16.5 x 2.8 cm, twarda oprawa |
| Ilustracje: | 16-24 strony ilustracje czarno-białe |
| Wydawca: | Pen & Sword Books Ltd (GB, 2009) |
| EAN: | 9781848840362 |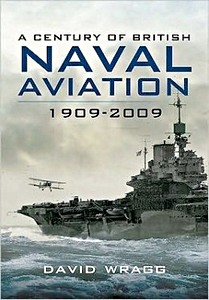 A Century of British Naval Aviation 1909-2009
Język: angielski
Kup na Amazon PL
Kup na Amazon DE
Kup na Amazon.com