Luftwaffe X-Planes - German Experimental Aircraft of World War II
From jet planes and high altitude aircraft to radar-equipped fighters configured to deliver chemical weapons, numerous Luftwaffe planes were designed and reached prototype stage but never made it into mass production or battle. Luftwaffe X Planes is a definitive, revelatory guide to the remarkable range of secret planes that the Third Reich failed to complete.
Despite the Allied authorities' ban on research, countless aircraft were designed and tested by the Luftwaffe and German manufacturers before World War II. The research went ahead at secret evaluation sites in Germany, Switzerland, Sweden and the USSR.
After the outbreak of the war this work continued. Many projects remained on the drawing board or at prototype stage because either they were deemed unsuitable or, as is the case with most of those in this selection, the developers simply ran out of time and the projects never went into production.
Renowned aviation expert Manfred Griehl has painstakingly assembled a valuable selection of images which shows the remarkable range of projects dreamed up by the German designers. Had these innovative projects ever been realised the course of the World War II could have been dramatically different.
| | |
| --- | --- |
| Autor: | Manfred Griehl |
| Szczegóły: | 80 strony, 24.5 x 17.5 x 1.5 cm, twarda oprawa |
| Ilustracje: | bogato ilustrowane, zdjęcia czarno-białe |
| Wydawca: | Pen & Sword Books Ltd (GB, 2015) |
| EAN: | 9781848327894 |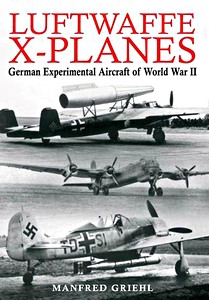 Luftwaffe X-Planes - German Experimental Aircraft of World War II
Język: angielski
Kup na Amazon DE
Kup na Amazon.com