Fighters Over the Fleet : Naval Air Defence from Biplanes to the Cold War
This is an account of the evolution of naval fighters for fleet air defence and the parallel evolution of the ships operating and controlling them, concentrating on the three main exponents of carrier warfare, the Royal Navy, the US Navy, and the Imperial Japanese Navy.
It describes the earliest efforts from the 1920s but it was not until radar allowed the direction of fighters that organised air defence became possible. Thus major naval-air battles of the Second World War - like Midway, the 'Pedestal' convoy, the Philippine Sea and Okinawa - are portrayed as tests of the new technology. This was ultimately found wanting by the Kamikaze campaigns, which led to postwar moves towards computer control and new kinds of fighters.
After 1945 the novel threats of nuclear weapons and stand-off missiles compounded the difficulties of naval air defence and the second half of the book covers RN and USN attempts to solve these problems, looking at US experience in Vietnam and British operations in the Falklands War.
It concludes with the ultimate US development of techniques and technology to fight the Outer Air Battle in the 1980s, which in turn point to the current state of carrier fighters and the supporting technology.
Based largely on documentary sources, some previously unused, this book will appeal to both the naval and aviation communities.
| | |
| --- | --- |
| Autor: | Norman Friedman |
| Szczegóły: | 460 strony, 29 x 24.5 cm, twarda oprawa |
| Ilustracje: | 400 czarno-białych i kolorowych zdjęć |
| Wydawca: | Pen & Sword Books Ltd (GB, 2016) |
| EAN: | 9781848324046 |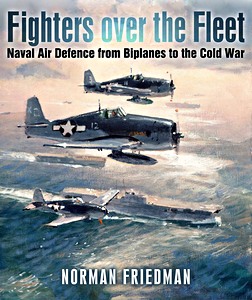 Fighters Over the Fleet : Naval Air Defence from Biplanes to the Cold War
Język: angielski
Kup na Amazon PL
Kup na Amazon DE
Kup na Amazon.com