Schneider Trophy Aircraft 1913-1931
At the end of 1912, Jacques Schneider announced his intention to present an annual trophy for an international seaplane contest. There were only twelve Schneider contests, but these were major international events, which came to rival others in Britain, Italy, France, and the US.
Biplane seaplanes and flying boats predominated the early contests and some very advanced twin-float biplanes were among the winners as late as 1925. Of all contenders, it was the monoplane which was to become the symbol of the Schneider Trophy, when its Supermarine and Macchi designs reached the apex of seaplane -racing performance.
The final, winning combination of a Supermarine airframe and Rolls-Royce engine made a vital contribution to Britain's defence in 1940, in the form of the Rolls-Royce powered Hurricane and Spitfire.
This book gives a detailed account of the contests; the design, development, and achievements of both aircraft which took part and which failed to; and the advanced ? and sometimes unrealistic ? ideas behind the projects themselves.
An engineering apprenticeship at the Gloster Aircraft Company initiated Derek James' lifetime career in aviation. He went on to join the ATC, Royal Observer Corps, Royal Navy, RAF, SBAC, and Dowty Group, and is the author of 19 aviation books.
| | |
| --- | --- |
| Autor: | Derek N. James |
| Szczegóły: | 368 strony, 23.5 x 15.5 cm, twarda oprawa |
| Ilustracje: | zdjęć czarno-białych |
| Wydawca: | Fonthill Media (GB, 2015) |
| EAN: | 9781781554180 |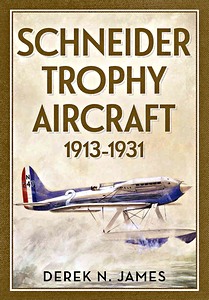 Schneider Trophy Aircraft 1913-1931
Język: angielski
Kup na Amazon PL
Kup na Amazon DE
Kup na Amazon.com