FR
NL
Home >
NL >
Combines: techniek, gebruik en bediening (1)
Grote voorraad - eenvoudig bestellen - stevige verpakking - snelle levering (met track en trace)
Boeken over combines - techniek, gebruik en bediening (1)
Een boek over maaidorsers en oogstmachines? Ontdek hier onze trekkerboeken over werking, techniek, onderhoud en reparatie van pikdorsers, maishakselaars en andere landbouwmachines.
Threshing Machines
door Trevor Gregory
Omschrijving - The threshing machine is surely the greatest single advance in the mechanisation of agriculture. The huge reduction in manpower it produced led to rioting and its unpopularity also slowed down the early development of the steam engine.
Because of the lack of literature on the subject, this book aims to treat the subject of Threshing as a whole. As well as detailed analysis of threshing machine development, design and construction plus a survey of its builders, this book also looks at the associated ancillary equipment and reviews the sources of motive power used.
To complete the picture, there is a brief look at the background history and the thresher's eventual metamorphosis into the combine harvester. The traction engine and the portable engine before it only came into existence to power the threshing machine.
This book hopes to go some way to put the threshing machine in its rightful place.
| | |
| --- | --- |
| Uitvoering: | 248 blz, 29.6 x 21.6 x 2.1 cm, harde kaft |
| Illustraties: | rijk geïllustreerd met z/w- en kleurenfoto's |
| Uitgever: | Japonica Press (GB, 2011) |
| EAN: | 9781904686217 |
Threshing Machines
Taal: Engels
Kopen op Amazon.nl
The Combine Harvester
door Jonathan Whitlam
Omschrijving - Tells the complete story of the combine harvester. Starting with the early straw walkers and rotary models, author Jonathan Whitlam charts the chronological evolution of these complex machines which soon became indispensable to the cereal farmer. The author shows how the combine developed into the huge modern machine, capable of processing hundreds of acres of wheat in a day.
The story of the combine harvester is meshed with the cereal harvest, starting with the first mechanisation of the harvest with the sail reaper, moving through to the binder and then the threshing drum.
The book describes the early arrival of the combine harvester in the shape of the reaper-thresher in the USA and then smaller, more compact trailed versions that were also used in Europe. The self-propelled combine arrived in the 1940s, which is when the idea really began to take off.
The book looks at the various different makes of combine harvester such as those produced by Case, New Holland, International Harvester, John Deere and Massey Ferguson and discusses what the future holds for the combine harvester, including advanced designs and driverless drones.
Accompanied by a wide variety of new colour photographs, this book will appeal to farm machinery enthusiasts and those interested in the development of modern industrial machinery.
| | |
| --- | --- |
| Uitvoering: | 96 blz, 167 x 233 x 9 mm, paperback |
| Illustraties: | 200 z/w- en kleurenfoto's |
| Uitgever: | Amberley Publishing (GB, 2018) |
| EAN: | 9781445677712 |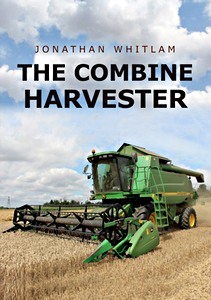 The Combine Harvester
Taal: Engels
Kopen op Amazon.nl
Histoire des batteuses de nos campagnes
door P. Vaissband
Dit fotoboek brengt de oogsttijd van vroeger weer tot leven. Het geeft een overzicht van de verschillende dorsmachines die vroeger in Frankrijk in gebruik waren, van de eerste dorskasten uit de 18e eeuw tot die van de glorieuze jaren dertig.
| | |
| --- | --- |
| Uitvoering: | 160 blz, 24 x 27 cm, harde kaft |
| Illustraties: | 300 z/w- en 70 kleurenfoto's |
| Uitgever: | ETAI (FR, 2007) |
| EAN: | 9782726887707 |
| Staat: | nieuw boek (papier) |
| Bestelcode: | E22057XT |
| Prijs: | € 40.75 |
| Levertijd: | |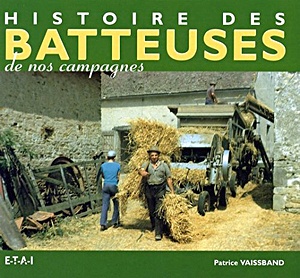 Histoire des batteuses de nos campagnes
Taal: Frans
Combines in Camera
door Sue Morgan
Omschrijving - Two years ago Sue Morgan had an idea of forming a chronicle of British combine photographs, some of these older models from companies no longer in existence are still used to cut a few acres, and in this book she has been able to capture these on camera as a record for future generations, together with some information about the companies which made them.
Pictures include MH780s, which were once often seen two or three in a field in the 1960s to the 8-14ft cut 10 tonnes an hour models of the 1970s, to the lone giant 40ft cut harvests of today with upwards of 80 tonnes an hour capacity working in fields of a hundred hectares or more.
| | |
| --- | --- |
| Uitvoering: | 214 blz, 30.6 x 21.5 x 2 cm, harde kaft |
| Illustraties: | rijk geïllustreerd met kleurenfoto's |
| Uitgever: | Japonica Press (GB, 2010) |
| EAN: | 9781904686200 |
Combines in Camera
Taal: Engels
Kopen op Amazon.nl
The Jones Baler Story
door Gwynfor Williams
Omschrijving - From humble beginnings in the early 1940's Jones Balers grew to become one of Britain's most respected companies. This is the story of how two Welsh brothers built a stationary baler, the first British self -tying pickup baler and progressed to make world beating machines culminating in the Jones Super Star of 1960. The fact that many are still in use today both at home and abroad bears testimony to their design and workmanship.
The book sets out to inform the reader that there is much more to Jones than balers, e.g. lesser known products such as loaders, tedders, muck spreaders and combine harvesters.
Gwynfor Williams uses a wealth of photographs previously unseen to illustrate the little known prototypes such as the Jones Minor Self-Propelled.
The take-over by Allis Chalmers and Bamfords is detailed with the closure of Jones Balers at Mold in 1981, concluding with a section highlighting a few of the increasing band of enthusiasts who to date have given their time and money to keep the Jones name alive.
| | |
| --- | --- |
| Uitvoering: | 196 blz, 29.3 x 21.7 x 1.8 cm, harde kaft |
| Illustraties: | rijk geïllustreerd met z/w- en kleurenfoto's |
| Uitgever: | Japonica Press (GB, 2011) |
| EAN: | 9781904686231 |
The Jones Baler Story
Taal: Engels
Kopen op Amazon.nl
< Vorige Naar boven Volgende >
Kennis en ervaring
Sinds 2000 importeert de TMB Bookshop technische boeken van Haynes, Chilton, Clymer, Brooklands, ETAI, Bucheli, Motorbooks, Motorbuch Verlag en andere bekende uitgevers.
Grote keuze uit meer dan 10.000 titels
Alleen nieuwe boeken, geen tweedehands
Grote eigen voorraad
Korte levertijd
Stevige verpakking
Bestellen is eenvoudig. U hoeft geen account aan te maken!
Veilig betalen per overschrijving via uw eigen bank. Een creditcard is niet nodig!
Zodra uw bestelling is verstuurd, ontvangt U per e-mail nog het pakket-nummer. Hiermee kunt U het pakje via het internet volgen.
Uw privacy is gewaarborgd
Wij versturen met:
TMB Nieuwsbrief
Wilt U op de hoogte blijven van de verschijning van nieuwe boeken? Meldt U dan aan voor de gratis TMB Nieuwsbrief.
Powered by NOP Design, indexed by FreeFind
Laatste update: 25-05-2020