Chevrolet Inline-6 Engine (1929-1962): How to Rebuild
Chevrolet's inline 6-cylinder, affectionately known as the Stovebolt, was produced and applied to Chevrolet-powered automobiles from 1929 through 1962. Its effectiveness and simplicity greatly contributed to the lengthy duration of its life span, with the engine still being created in some capacity into 2009.
Deve Krehbiel of devestechnet.com has taken his decades of knowledge on the inline-6 and created the ultimate resource on rebuilding the Stovebolt Chevrolet powerplant.
Using color photography with step-by-step sequencing, Deve takes you through the disassembly, rebuild, and reassembly of these engines, including rebuilding the carburetor, distributor, and intake/exhaust systems.
Tech Tips highlight areas that can be overlooked, such as proper cleaning and determining if a part is reusable, and an appendix provides information on decoding casting numbers.
Note: This book focuses on the 1954 and newer engines. These engines had insert bearings as opposed to the poured Babbitt bearings of the earlier models. With the majority of owners retrofitting the newer engines into older chassis, and the difficulty finding Babbitt professionals today, the focus of this book is on the 1954 and newer versions.
| | |
| --- | --- |
| Autor: | Deve Krehbiel |
| Szczegóły: | 144 strony, 28 x 22 x 0.6 cm, miękka oprawa |
| Ilustracje: | 407 zdjęć i rysunków kolorowe |
| Wydawca: | CarTech Inc (USA, 2018) |
| Seria: | S-A Design Workbench (SA455) |
| EAN: | 9781613254882 |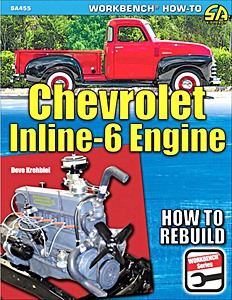 Chevrolet Inline-6 Engine (1929-1962): How to Rebuild
Język: angielski
Kup na Amazon PL
Kup na Amazon DE
Kup na Amazon.com