The Book of the Villiers Engine (up to 1959) - Includes a Chapter on the Bond, Gordon & AC Petite 3-Wheel Cars
Floyd Clymer manual (reprint) for maintenance and repair of Villiers engines (1 and 2 cylinders) from the 1920s, 30, 40 and 50.
Versions:
- Junior, Junior the Luxe, Super Sports
- MK1, MK2, MK3, MK4, MK5
- 6A, 7A, 8A, 9A, 10A, 16A, 17A, 18A
- 6B, 7B, 8B, 9B, 10B, 14B, 28B
- 6C, 7C, 8C, 12C, 30C, 31C
- 9D, 10D, 12D
- 1E, 2E, 3E, 6E, 8E, 9E
- 1F, 2F, 4F, 6F
- 1H, 2H
- 3K, 2L
- 2T, 3T.
This Clymer workshop manual for Villiers engines contains complete technical specifications and detailed instructions for maintenance, repair and overhaul of all components, includes carburettor, fuel system and ignition.
A separate chapter is dedicated to the AC Petite, Bond and Gordon three-wheelers.
Reprint of the Clymer Motorcyclist's Library / Pitman Ltd edition (10th edition + supplement of the 11th edition, 1959).
| | |
| --- | --- |
| Autor: | C. Grange |
| Szczegóły: | 136 strony, 21.5 x 14 x 0.7 cm, miękka oprawa |
| Ilustracje: | 87 czarno-białych zdjęć i rysunków |
| Wydawca: | Pitman / Clymer / VelocePress (USA, 2018) |
| Seria: | Floyd Clymer Manual Reprint |
| EAN: | 9781588501844 |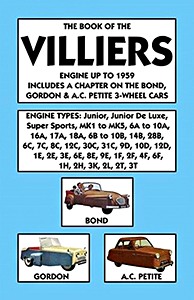 The Book of the Villiers Engine (up to 1959) - Includes a Chapter on the Bond, Gordon & AC Petite 3-Wheel Cars
Język: angielski
Kup na Amazon PL
Kup na Amazon DE
Kup na Amazon.com