General Motors Automatic Transmission Overhaul Manual (1964-1994) - Fundamentals, diagnosis, overhaul, modifications
Haynes TechBook covering the overhaul of General Motors Hydramatic automatic transmissions and transaxles, installed in Buick, Cadillac, Chevrolet, GMC, Oldsmobile and Pontiac passenger cars, vans and pick-ups.
Covers the following models:
- automatic transmissions THM200-4R (1981-1989), THM350 (1969-1989), THM375B, THM400 (1964-1990, also used by American Motors, Jaguar, Rolls-Royce and Bentley) and THM700-R4 (1982-1992)
- transaxles THM 125/125C (1980-1989), THM 3T40 (1990-1994), THM 440-T4 (1984-1990) and THM 4T60 (1990-1993) (used in GM models with front wheel drive).
Over 1400 photos and complete step-by-step instructions for the overhaul of the complete transmission (torque converter, planetary gears, brake bands, oil pump and switch block).
Also chapters about working principles, identification, tools, measuring instruments, removal and assembly.
| | |
| --- | --- |
| Autor: | Eric Godfrey, J. H. Haynes |
| Szczegóły: | 304 strony, 27 x 21 x 1.5 cm, miękka oprawa |
| Ilustracje: | 1400 fotografii |
| Wydawca: | Haynes Manuals, Inc. (USA, 2002) |
| Seria: | Haynes TechBook (10360) |
| EAN: | 9781563924231 |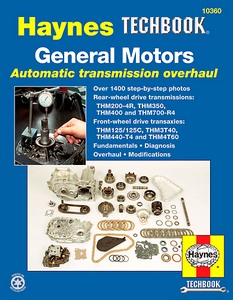 General Motors Automatic Transmission Overhaul Manual (1964-1994) - Fundamentals, diagnosis, overhaul, modifications
Język: angielski
Kup na Amazon PL
Kup na Amazon DE
Kup na Amazon.com