Mini (1959-2000)
Haynes restoration manual for all Mini models (1959-2000), including the Mini Cooper. Provides also purchase tips and information on the model history and identification.

Covers the Mini Mk 1 (1959-1967), Mini Mk 2 (1967-1970), Mini Mk 3 (1969-1976), Mini Mk 4 (1976-1983), Mini Mk 5 (1984-1989), Mini Mk 6 (1990-1995) and Mini Mk 7 (1996-2000).
This manual describes the complete restoration of the Mini models:
- renovation of the body (including the replacement of bonnet, fenders, windows, doors and bumpers)
- the interior (seat covers, dashboard and door panels)
- the engine (removal and installation, overhaul)
- the chassis (clutch, gearbox, suspension, brakes, steering)
- the electrical installation (lights, dynamo, starter motor, windscreen wipers).
Richly illustrated with nearly 900 photos and clear step-by-step instructions.
| | |
| --- | --- |
| Autor: | Lindsay Porter |
| Szczegóły: | 320 strony, 27.5 x 2.5 x 21.7 cm, twarda oprawa |
| Ilustracje: | zdjęć czarno-białych |
| Wydawca: | Haynes Publishing (GB, 1998) |
| Seria: | Haynes Restoration Manual |
| EAN: | 9781859604403 |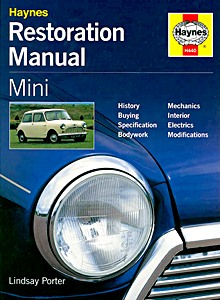 Mini (1959-2000)
Język: angielski
Kup na Amazon PL
Kup na Amazon DE
Kup na Amazon.com