How to restore: Mazda MX-5 / Miata Mk1 & 2 - Your step-by-step guide to restoring a Mazda MX-5 Miata
An easy to follow guide to restoring a classic Mazda MX-5/Miata - the world's favourite small sports car. This book takes you step-by-step through choosing a project car, looking the car over, planning the restoration, and buying parts and tools to perform the work.
The comprehensive text is fully supported by high resolution photographs, guiding you through stripping the car down, cutting out and repairing rust, restoration of interiors, replacing the hood, refurbishing the underside of the car including the floor pan, suspension, brakes, undersealing, reassembly, replacing the cam belt and waterpump, replacing engine seals and gaskets to cure common leaks.
It also provides a guide to handy upgrades as you go along. Whether you are looking to restore to original condition or build an out-and-out track weapon, the techniques described in this book will assist you in getting the right base to start with.
The book is based on and actual restoration of a vehicle carried out by the author, with before and after shots.
| | |
| --- | --- |
| Autor: | Oliver Wild |
| Szczegóły: | 224 strony, 27 x 20.5 cm, miękka oprawa |
| Ilustracje: | 1000 kolorowych zdjęć |
| Wydawca: | Veloce Publishing Ltd (GB, 2019) |
| Seria: | Enthusiast's Restoration Manual |
| EAN: | 9781787113046 |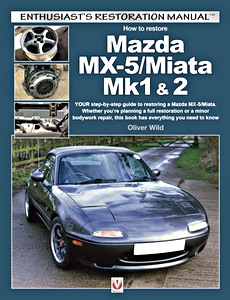 How to restore: Mazda MX-5 / Miata Mk1 & 2 - Your step-by-step guide to restoring a Mazda MX-5 Miata
Język: angielski
Kup na Amazon PL
Kup na Amazon DE
Kup na Amazon.com