Ford Mustang Restoration Guide (1964-1/2 thru 1970) - From shed to showroom
Haynes restoration Manual on the Ford Mustang. Model years: 1964-1970. Gives also purchase tips and information about the model history and identification.
This Haynes guide describes the complete restoration of the Ford Mustang models: renovation of the body (including the replacement of bonnet, fenders, windows, doors and bumpers), the interior (seat covers, dashboard and door panels), the engine (removal and installation, overhaul), the chassis (clutch, gearbox, suspension, brakes, steering) and the electrical installation (lamps, dynamo, starter motor, windscreen wipers).
Richly illustrated with 1000 colour photos and clear step-by-step instructions.
| | |
| --- | --- |
| Autor: | Jay Storer, Quayside |
| Szczegóły: | 320 strony, 27 x 21 x 1.6 cm, miękka oprawa |
| Ilustracje: | 1000 kolorowych zdjęć |
| Wydawca: | Haynes Manuals, Inc. (USA, 2012) |
| Seria: | Haynes Auto Repair Manual (11500) |
| EAN: | 9781563929571 |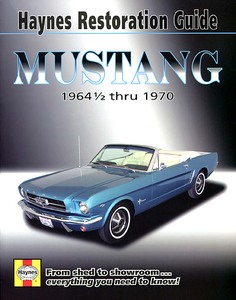 Ford Mustang Restoration Guide (1964-1/2 thru 1970) - From shed to showroom
Język: angielski
Kup na Amazon PL
Kup na Amazon DE
Kup na Amazon.com