The Complete Catalogue of the Ford Escort Mk1 & Mk2 - All rear drive Escort variants from around the world 1968-1980
Ford Escort Mk1 and Mk2 cars were built in huge numbers around the world, in Britain, France, Germany, Spain, Australia, New Zealand and South Africa. During the life of the models no less than 130 different variants were produced, ranging from the 2-door base model saloon through four-doors, vans and estates, campers and plush Ghia models to the highly desirable sporting versions like the Twin-Cam and RS models.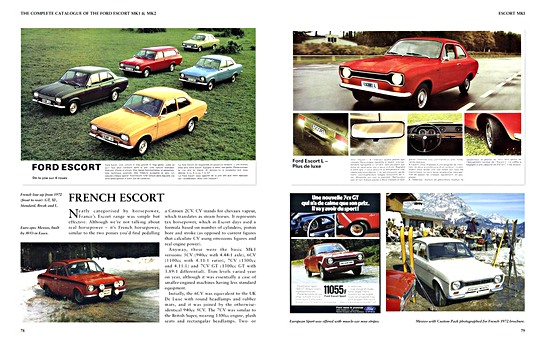 This model-by-model catalogue of all the Escorts from around the world pays tribute to an incredibly successful car in all its different guises, providing assessments of the astonishing, the successful, the fashionable and even the not-so-great machines that wore Ford's famous Escort badge.
For every variant the author provides specifications and a description, and all of them are illustrated.
| | |
| --- | --- |
| Autor: | Dan Williamson |
| Szczegóły: | 176 strony, 27.5 x 22 x 2.2 cm, twarda oprawa |
| Ilustracje: | 350 czarno-białych i kolorowych zdjęć |
| Wydawca: | Herridge & Sons Ltd (GB, 2018) |
| EAN: | 9781906133740 |
The Complete Catalogue of the Ford Escort Mk1 & Mk2 - All rear drive Escort variants from around the world 1968-1980
Język: angielski
Kup na Amazon PL
Kup na Amazon DE
Kup na Amazon.com