New Hemi Engines (2003-Present) : How to Rebuild - 5.7 L, 6.1 L, 6.2 L Supercharged & 6.4 L Engines
Larry Shepard delivers thorough instructions for each crucial step of the rebuilding process. Before commencing engine tear down, he shows you how to perform compression and leak down testing to accurately assess the health of the engine. Disassembly and comprehensive inspection instructions are provided so you can determine and remedy any underlying problems.
Expert insight allows you to select the ideal parts package for your rebuild, whether OEM replacement or compatible and complementary high-performance parts are selected.
The most pertinent information for the latest machining practices is provided, so you can coordinate with the machine shop to return the block, head, intake, and other surfaces to like-new condition.
Assembling the cylinder heads as well as accurately measuring, checking clearances, and test fitting parts is detailed, so you're sure all components are within spec and ready for final assembly.
Finally, comprehensive step-by-step instructions are provided for assembling all components into a completed engine.
Covers the Hemi Gen III 5.7L, 6.1L, and 6.2L supercharged and 6.4L engines (2003 to present). These powerful engines occupy the engine bays of new Challengers, Chargers, Magnums, 300Cs, Durangos, Jeep Grand Cherokees, and Ram trucks.
| | |
| --- | --- |
| Autor: | Larry Shepard |
| Szczegóły: | 144 strony, 28 x 21.5 x 1 cm, miękka oprawa |
| Ilustracje: | 414 kolorowych zdjęć |
| Wydawca: | CarTech Inc (USA, 2019) |
| Seria: | S-A Design Workbench (SA439) |
| EAN: | 9781613254479 |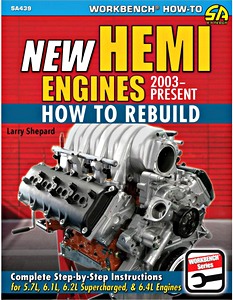 New Hemi Engines (2003-Present) : How to Rebuild - 5.7 L, 6.1 L, 6.2 L Supercharged & 6.4 L Engines
Język: angielski
Kup na Amazon PL
Kup na Amazon DE
Kup na Amazon.com