North American T-28 Trojan
Designed as a replacement for the T-6 Texan, North American's T-28 Trojan first flew in 1949 and remained in production until 1957. The T-28A was initially adopted as primary trainer by the U.S. Air Force, but it served in this capacity for less than a decade.
The U.S. Navy and Marine Corps found the T-28B/C model aircraft well suited to their needs, and continued to use it up until 1984, when it was replaced by the T-34C turboprop.
Despite its training designation, the T-28 flew in a combat role, perhaps most famously during the Vietnam conflict where Trojans performed close air support and counter-insurgency missions for the C.I.A. Modified attack trainer T-28D "Nomads" also flew for the French in Algeria.
Originally created by the U.S. Navy in 1962, this T-28B/C pilot's flight operating manual was required reading for pilots and trainees.
This high quality reproduction includes the original manual in its entirety, including information on carrier landing training and emergency procedures. It's a fascinating reference that puts you right in the cockpit of one of history's great planes.
| | |
| --- | --- |
| Autor: | United States Navy |
| Szczegóły: | 302 strony, 25.5 x 20.5 x 1.6 cm, miękka oprawa |
| Ilustracje: | bogato ilustrowane, zdjęcia i rysunki |
| Wydawca: | Periscope Film (USA, 2010) |
| Seria: | Pilot's Flight Operation Instructions |
| EAN: | 9781935700456 |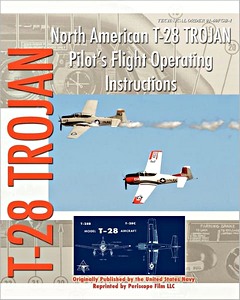 North American T-28 Trojan
Język: angielski
Kup na Amazon DE