Soviet Aircraft Industry
Soviet aircraft industry was an essential part of the USSR's campaign for global dominance in the twentieth century. Thanks to the thick fog of secrecy that enveloped it throughout the Cold War, it has long inspired the fascination of analysts and enthusiasts in the West; until the collapse of the USSR in 1991, details of Soviet aircraft were often a matter of conjecture.
This book aims to uncover fully the mystery surrounding this topic.
Drawing on original and previously unpublished information obtained directly from the former USSR, Soviet Aircraft Industry examines the unique characteristics of Soviet-designed aircraft - particularly military types, which were the cause of great concern to the West.
Further, by virtue of the industry's central role throughout Soviet history, this book provides a rare and important perspective into the broader theme of Russia's great communist experiment.
| | |
| --- | --- |
| Autor: | Peter G. Dancey |
| Szczegóły: | 288 strony, 25 x 17 cm, twarda oprawa |
| Ilustracje: | zdjęć czarno-białych |
| Wydawca: | Fonthill Media (GB, 2015) |
| EAN: | 9781781552896 |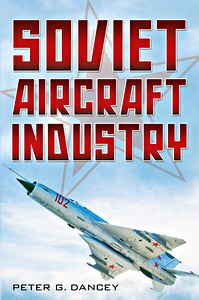 Soviet Aircraft Industry
Język: angielski
Kup na Amazon PL
Kup na Amazon DE
Kup na Amazon.com