Brabham Ralt Honda - The Ron Tauranac Story
de Mike Lawrence (Auteur)
Ron Tauranac has designed racing cars for over forty years and Mike Lawrence's book documents his work in detail - particularly with regard to Brabham, Honda and his own Ralt firm. It is a superb biography of one of the pivotal figures in motor sport. It provides an educational outing into the world of open-wheel race car productions.
Virtually anybody who was somebody in racing has made an appearance here. If you are looking to learn the truths of who, why and when, then this is the book for you.
First published by Motor Racing Publications in 1999.
| | |
| --- | --- |
| Présentation : | 288 pages, 22 x 15 cm, broché |
| Illustration : | abondamment illustré |
| Editeur : | Brooklands Books (GB, 2011) |
| EAN: | 9781855209237 |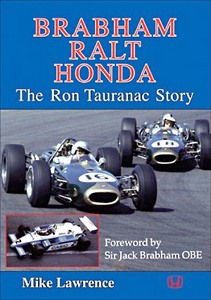 Brabham Ralt Honda - The Ron Tauranac Story
Langue : anglais
Acheter sur Amazon FR
Acheter sur Amazon BE
Acheter sur Amazon CA