Aviones Hunting: libros - historia, modelos y técnica
¿Un libro sobre aviones Hunting? Descubra aquí nuestros libros dedicados a la historia, las versiones y la técnica de los aviones Hunting.
The Jet Provost
de Martyn Chorlton (Autor)
Initially designed and built by Hunting Percival, the Jet Provost was a jet-powered development of the piston Provost trainer, which only entered service five years before its more powerful younger sibling.
The Jet Provost became the RAF's first ab initio jet trainer when it entered service in 1955 and would staunchly remain in this crucial role until 1993 when it was replaced by the turboprop-powered Tucano.
During its long service career with the RAF, the Jet Provost progressed through seven marks, although it was only from the T.3 onwards that numbers began to climb.
In 1960, Hunting Percival, which was renamed Hunting three years earlier, was taken over by BAC. It was under this new management that the Jet Provost was offered to a world audience with some success in Ceylon (now Sri Lanka), Iraq, Venezuela and Sudan.
It was at this point that a dedicated ground-attack version was created in the shape of the Strikemaster, of which 146 were built, serving with a number of air forces across the globe.
| | |
| --- | --- |
| Presentación: | 96 páginas, 23.5 x 17.5 x 0.8 cm, tapa blanda |
| Ilustración: | 140 fotos en b/n y color |
| Editor: | Amberley Publishing (GB, 2019) |
| EAN: | 9781445681177 |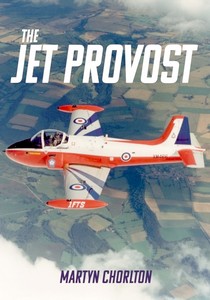 The Jet Provost
Idioma: Inglés
Comprar en Amazon.com
Comprar en Amazon ES
Pericia y experiencia
Desde el año 2000 la librería TMB importa libros técnicos de Haynes, ETAI, Chilton, Clymer, Brooklands, Bucheli, Motorbuch Verlag y otras editoriales de renombre.
Gran selección de más de 12.000 títulos
Entrega rápida
Embalaje fuerte
¡Ordenar es fácil! ¡No necesita crear una cuenta!
Pago seguro mediante transferencia bancaria a través de su propio banco. ¡Para ordenar, no necesita una tarjeta de crédito!
El día del envío le enviaremos otro correo electrónico con el número de paquete, para que pueda rastrear su pedido en Internet.
Respetamos la privacidad.
Nuestros socios logísticos:
Powered by NOP Design, indexed by FreeFind
Última actualización:17-03-2023